Compose Your Words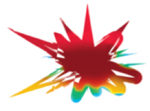 Compose Your Words is about making music with the spoken word. As Landy writes: "Think of the wide range of vocal sounds, including words, that we can use in a spoken poem. Imagine what we can do with our voice as an instrument of performance."
Leigh Landy is a composer, author, and educator. 
His works, including video, dance and theatre works, have been performed throughout the world. 
He directs the Music, Technology and Innovation Research Centre at De Montfort University in Leicester, UK.
Word music, our name for what generally has been called sound-poetry, has a history with poets and composers through the 20th century and to the present. It is among the most humanly communicative and powerful of all musical forms.
Landy takes you through the process of composition in a simple progressive sequence of 26 steps labelled from A to Z, some of which he created, many of which are based on works by well-known artists. He starts with simple rhythmic patterns and ends with technology and space. He writes: "I don't want to put words in your mouths, take my words for it. I do want you to enjoy this and create."
And we, at Intelligent Arts, want everyone to enjoy and create. Send your compositions to contact@intelligentarts.net.